what I'm listening to as I write this
Yesterday I went to Roasted Cafe to finish up a post since the power went out at my house. As I was there, a young lady came in the door. She's one of the Dempsey residents, a once glorious downtown hotel that was converted in to low income senior housing. It's rather easy to ignore many of them, as they can tend to get in the way as some of us rush to our jobs or our lunches with friends.
I've seen her before, and I've walked past her before. I used to make it a point to always to speak to the residents as I walked past them, and I still speak and say hello but ever since an encounter last year which rattled me- I've been less likely to engage in a full conversation.
Miss Carrie, as I would later learn her name is, would come up and speak to me. Or rather, she rolled up to me in her electric wheelchair. I was working on reorganizing photo files after my blog post on fashion and girl's nights out was completed. And I was only halfway listening to her because I was intent on my work- and giving half answers to her statements. She's also rather difficult to understand.
I would eventually look down to her from my high top stool at the counter and say, I'm so sorry- but I'm working on something and I know I'm not paying full attention to you like I should. Her response rattled me: "That's ok- at least you were honest with me. Most people just ignore me."
Something about how she said it nearly cut me- she wasn't mean, it was just brutally honest. I turned from my work, thinking of my dear friend Stacey Harwell. Stacey is a minister at Cententary Methodist Church and she would be embarrassed to know this but she serves as a daily inspiration for me. She's always speaking to people who are on the streets, they are her friends. I know this because sometimes when I am brave and speak, I always ask if they know her- and their faces always always light up. Yes, I know Miss Stacey.
Miss Carrie and I would speak, for at least 30 minutes. She loves to paint and draw- which opened me up and I told her if I came across some extra art supplies (since my mother is an art teacher) I would bring them to her. I nearly cried when Miss Carrie said how much that would mean to her. We would keep on talking, she would tell me people sometimes buy her art and even ask for specific pieces. But when she told me people only pay her about $10 I became mad- and said she needed to charge at least the price of her supplies plus her time.
Now, it may seem silly for me to tell her that. If you know anything about the Dempsey residents, you know that we sometimes discount them. Miss Carrie laughed- and said, if only people could see past her chair, that she has a brain. This is when I became really brave and asked why she was in the wheelchair.
Cerebral Palsy. She's not mentally deficient. She has a muscle disease, and no one to take care of her. So she is on her own, with a caseworker, and she is in the Dempsey. She makes a little bit of extra money from people who love her artwork but are unwilling to pay her enough to even buy her supplies. She asked me to meet with her and tell her if her work is good, which I hope to do- I gave her my card and said perhaps myself and Miss Stacey could meet with her? Because of course, she knows Stacey as well.
I am ashamed that I have walked past her before, always in a hurry to the next event, the next meeting. To hear her speak of how she wishes people could see her, not her wheelchair, to talk about how she hates the four walls that enclose her in and that she loves to get outside and to paint…. I am simply ashamed. I cannot fix her life, but I can talk to her and give her kindness and some of my time. After all, that's all anybody really wants is for someone to care. How lonely her life must be.
It reminds me of the stories I've read of ministers dressing as the homeless, or even the Episcopal church who placed a statue of a homeless man outside their church, there are those here right beside us who would love for us just to talk to them.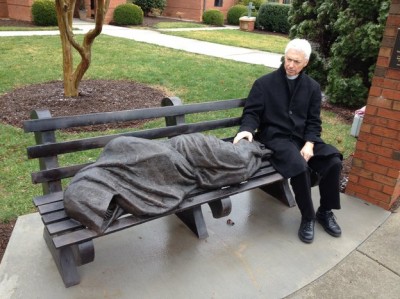 Perhaps I can be more like Stacey, and take the time to speak to those who simply want a smile.
Love to all y'all,
Molly
NPR story on the Episcopal church below: