The 11th Hour Awards- 2014
It popped up in my newsfeed today that it's time to start the nominating for The 11th Hour Awards, various friends and businesses have started their own petitions asking for people to nominate them.
The categories are: Best New Business in Macon, Who is Your Favorite Local Hero?, Who is Your Favorite Local Celebrity?, What's the Best Annual Event in Macon?, What's Macon's Best Tourist Destination?, Best News Anchor, Favorite Person to Follow on Twitter, Best Blogger and more.
To see the full list, and to nominate, go here:  https://www.surveymonkey.com/s/11thhourawards2013
I've gotta be honest, it would be cool to be nominated for Best Blogger (sorry- actual title is Favorite Local Blogger).
But in thinking over the other nominations, it gets really difficult. For instance, Favorite Person to Follow on Twitter. Some of my favorites are Chris Floore, Roger Riddle, Chris Horne (and he doesn't even live here anymore- but we will ignore that), Meg Donahue, Melanie Bruchet, Susannah Maddux and more. There are some people that I can't reach any other way but through Twitter (Roger- I'm looking at you).
Best New Business is damn hard too. What actually qualifies as a new business? If they opened within the past year? I thought I should ask Brad Evans, Editor of The 11th Hour for verification. Basically, those who would be up for nomination would be businesses that opened up after the last awards show. (Wow- I should have known that.)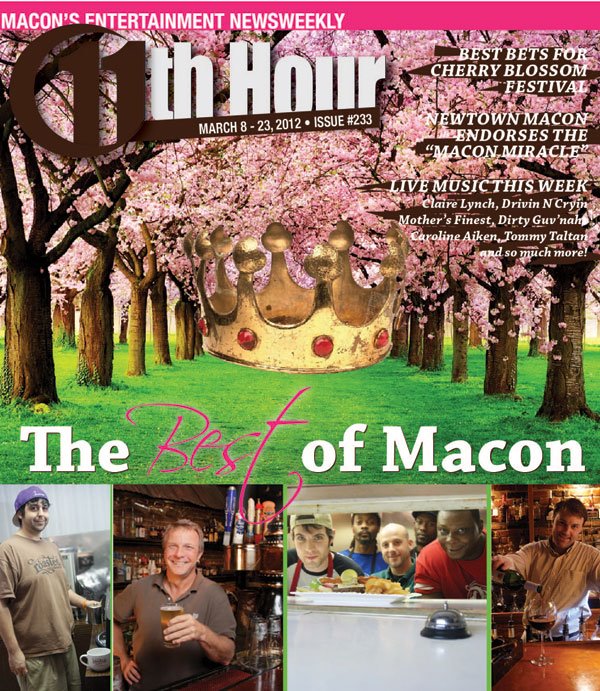 I was not able to make it to the show the past couple of years due to various family obligations- but I'm marking it on my calendar NOW. Last year's host was my dear friend Danny Davis of JuBee and the Morning After, and I hate I missed the shenanigans he pulled off that night. Looking over YouTube clips of past years award shows, with a drum line in 2010, the "Macon Shake" shown above , Sterling Waite and the Cotton Avenue Hustlers last year, lord only knows what we are in store for this year. I know I don't have to tell y'all that this event is the perfect mix of all the culture we have here in Macon- from the refined to the down and dirty. It's just one of many reasons I love this town.
This year's awards show will also spotlight Robert Lee Coleman, our own Maconite who played guitar for Percy Sledge from 1964 til 1969. He was hired by James Brown in 1970 to perform with his new band, the "JB's". From the website MusicMaker.org:
In 1964, Robert was picked by R&B legend Percy Sledge to play guitar in his touring band, a position he held through 1969.  During this time Coleman toured extensively throughout North & South America, the Caribbean, & even Africa.  In April of 1970, James Brown came to Macon looking for players for his backing band, the newly-founded JBs.  From then till the end of '72, Coleman toured & recorded with Brown.  His playing from this time is documented on three of Brown's albums: "Hot Pants", on which Coleman was solely responsible for the guitar groove on the title track; "Revolution of the Mind", recorded live at the Apollo Theater in NYC; & the song "Make It Funky" from the "Soul Classics" LP.
Upon leaving Brown, Coleman returned to Macon & resumed playing clubs & other venues with the same musicians he played with in the early days.  Then came the demise of Capricorn Records & Macon suddenly ceased to be "The Place" where R&B artists came to find their bands.  Nevertheless, Coleman persevered, continuing to play with the best the area had to offer. Through most of the 1980's Coleman played with organist Bobby O'Dea as a member of the house band at the Rookery, a downtown Macon institution, & toured with Larry Howard(Grinderswitch, Sanctified Blues).  During the 1990s, Coleman frequently toured as a featured member of Big Mike & the Booty Papas.
As for the nominations itself, last year's winners included Floco Torres for Best to Follow on Twitter, Chris Horne for Favorite Local Blogger, Mayor Robert Reichert for Favorite Politician, Best New Restaurant Roasted Cafe, The Hummingbird for Best Drink Specials, Maryann Bates for Favorite Photographer and many many more.
So, what are your favorites? Be sure to start your nominations now– and don't miss the event itself! And to read last year's issue with the winners listed go here: http://issuu.com/meg11hour/docs/macon3-8-12
Love to all y'all,
Molly